Hiroshi Miwa
[[1]]


Kanji

三輪 寛

Romanji

Miwa Hiroshi

Gender

Male

Race

Human

Unusual Features

No information

Affiliation

Constant Majick Academy

Occupation

Constant Majick Academy Student

Goal

No information

Status

Single

Debut

Episode 1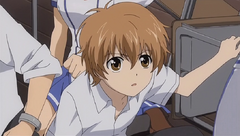 Hiroshi Miwa
(三輪 寛
Miwa Hiroshi
) is Akuto's self-described minion much to Akuto's dismay. A boy of small stature, he is frequently and savagely bullied by other students, and sees Akuto as his hero and protector.
Despite the fact that he is loyal towards Akuto to the point of protecting him from everything, ironically, it was shown that he should be the 'hero' who defeats the demon king in the modern era. After coming close with death fighting to protect his sister, he found 'BRAVE' by accident and became the hero 'BRAVE' defeating many monsters, unbeknownst to everyone.
Personality
Hiroshi is a kind, and very loyal friend to Akuto, despite the fact that Akuto quite often scolds him for calling him "Demon King". He is often bullied but keeps a positive attitude, even encouraging Akuto to deal with the bullies who ambushed him after taking him as a hostage. He thinks of Akuto as a brotherly figure, and rarely leaves his side. He feels more confident in himself, and with the power of "BRAVE" tries to stop him from attacking people, not knowing that his actual target was in fact, God.
Abilities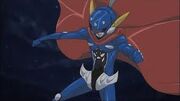 BRAVE This was a device he came across, thinking it would help him defend the world from the Demon King, he took it and defeated many Demon Beasts using it's power. He isn't shown to have any other abilities in the anime
Gallery
Main Article: Hiroshi Miwa/Gallery